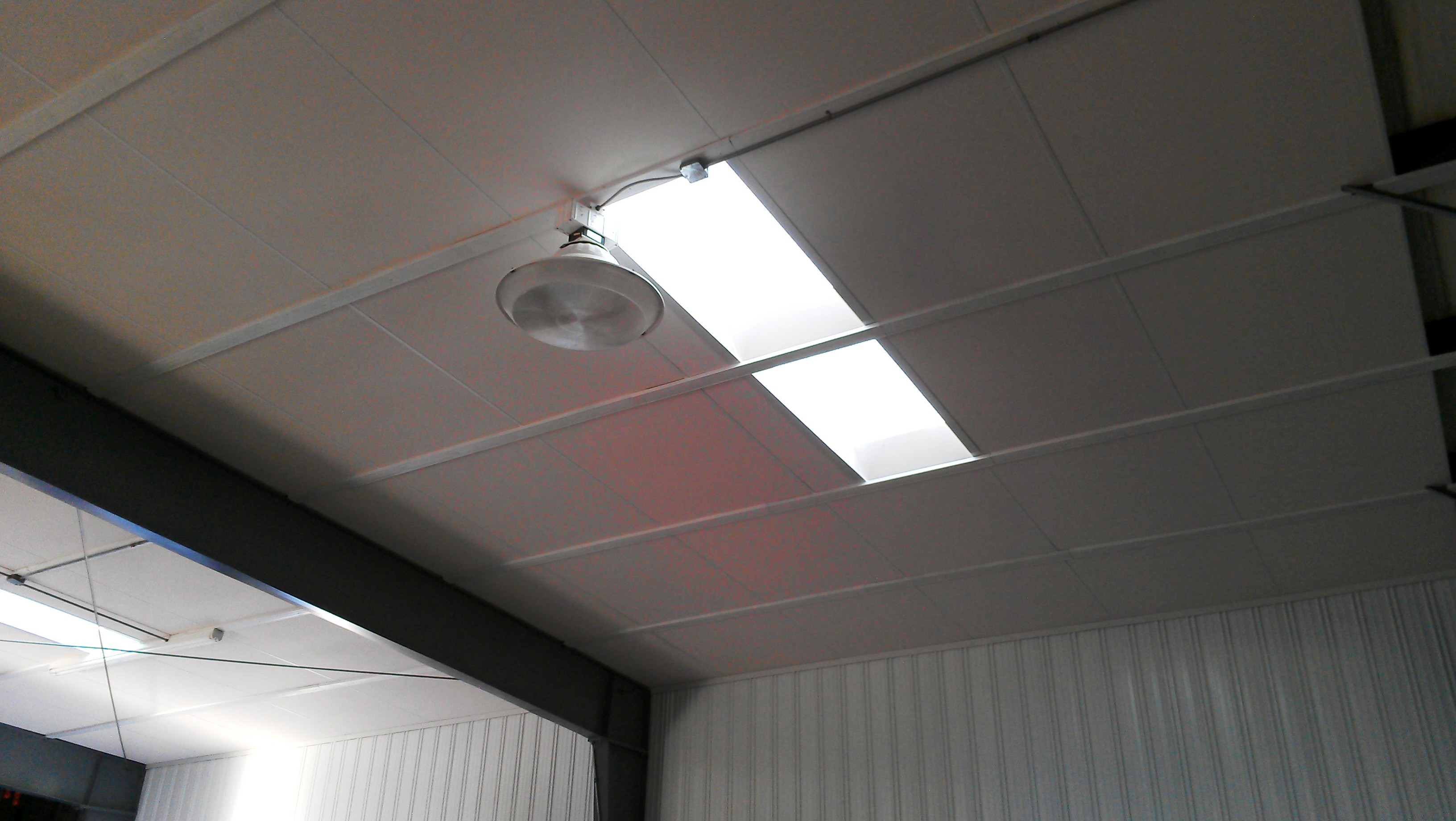 Softex Plus Oversized Ceiling Panels
Softex Plus Ceiling Panels are simply traditional fiberglass ceiling tiles. The core material is a 2-3 lb density fiberglass with a non-perforated White or Black Vinyl on the face. The panels combine a cleanable surface with premium acoustics, and a smooth white look.
However, Softex Plus differs because we make them any size up to 5' x 5' to order. ISC has the cability to make custom panels to any size to fit custom lay-in applications. Popular sizes include 2' x 5', 2.5' x 5', 4' x 4', and 5' x 5'. Any other custom size is available as well upon request and the panels come in a variety of thicknesses starting at 1" and going upwards of 3" thick.
Call one of our Sales People today to discuss your custom job today!!

Or call toll free

888-782-5011
Features and Benefits
Medium density fiberglass with textured vinyl facing.

Wide selection of facings.

Variety of thickness and sizes including custom and metric.

Square edge for use with 15/16" and 9/16" wide ceiling suspension systems.

Excellent sound absorption qualities.

Available perforated and non-perforated.

High sound attenuation (CAC) properties when specified with optional foil backing.

High light reflectance (LR-1).

Class A per ASTM E 84.

High R value; panels insulate and save energy.

Humidity Resistant (RH 95). Resistant to 95% relative humidity at 104° F.

Panels are moisture resistant - will not sag, warp, shrink, chip, crack, or dent.

Can be installed during "wet" phases of construction.

Excellent durability.

Vinyl facing provides a washable non-porous surface.

Panels are flexible and lightweight making installation fast and easy.

Standard 25 Year Limited warranty.
Product Selector
Per Carton

Product Number

Panel Size
Pieces
Feet
Weight
5/8" Thick
STV-1010
24" x 24"
24
96
24
STV-1011
24" x 48"
12
96
24
1" Thick
STV-1040
24" x 24"
24
96
34
STV-1041
24" x 48"
12
96
34
STV-1042
48" x 48"
12
192
67
2" Thick
STV-1080
24" x 24"
12
48
33
STV-1081
24" x 48"
6
48
33
STV-1082
48" x 48"
6
96
60
3" Thick
STV-1090
24" x 24"
8
32
33
STV-1091
24" x 48"
4
32
33
STV-1092
48" x 48"
4
64
60
Physical Data
| | |
| --- | --- |
| | |
| | |
| Substrate | Medium Density Fiberglass |
| Nominal Sizes | 5/8" - 2'x2', 2'x4' |
| | 1" - 2'x2', 2'x4' |
| | 2" - 2'x2', 2'x4', 4'x4' |
| | 3" - 2'x2', 2'x4', 4'x4' |
| | Metric and Custom Sizes available for all thicknesses |
| Edge Detail | Square |
| Fire Performance | ASTM E 84 Class A |
| Surface Finish | 2 mil Vinyl - White |
| Light Reflectance | LR-1 per ASTM E 1477 |
| Thermal Resistance | 5/8" R =2.7 1" R =4.0 2" R =8.7 3" R =13.6 |
| Sound Transmission | 5/8" 1" 2" 3" |
| NRC (Perforated) | .70 - .80 .80 - .90 .90 - 1.00 .95 - 1.05 |
| NRC (Non-perforated) | .60 - .70 .70 - .80 .80 - .90 .85 - .95 |
| CAC with foil backing) | 20 - 24 20 - 24 20 - 24 24 - 29 |
| Weight | No foil 5/8"=.20 lbs/sf 1"=.34 lbs/sf 2"=.44 lbs/sf 3"=.65 lbs/sf |
| | Foil 5/8"=.25 lbs/sf 1"=.39 lbs/sf 2"=.49 lbs/sf 3"=.70 lbs/sf |
| Backloading | 0.3 lbs. per square foot maximum on 24" x 24" and 24" x 48" panels only |
| Moisture Resistance | RH 95°™ |
| | will not exhibit visible warp or sag under conditions not exceeding 95% relative humidity at 104° F (32° C) per ASTM C367 |
| Suspension Systems | 15/16" and 9'16" T-bar Suspension Grid |
| Use | Suitable for use as an interior ceiling in conditioned space. |
| | May be installed during wet phases of construction. |
| Warranty | 25 Year Limited Warranty |
| ASTM E 1264 Classification | Type XII, Form 1 Patterns C, E |