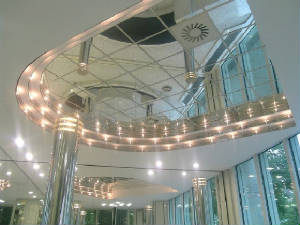 ISC Mirror Ceiling Tiles are made from 1 mm Thick Acrylic with a Mirror Finish. The tiles are thin but made from a rigid Acrylic that allows them to lay into grid without sagging over time. Traditional heavier panels can be laid in back to weigh them down but aren't necessary in most applications.

Mirror Tiles are easy to install and cut with a common utility knife (score and snap). They give customers a high end reflective ceiling at a fraction of the cost of other manufacturers.

The most common application currently is Retail Stores using them for security purposes, but they are also perfect for anyone who wants the look of a mirrored ceiling - Hotels, Nightclubs, Casinos, Workout Facilities, etc
**Thicker Panels are also available in 2x4 Lay-in or 4x8 sheets for walls and glue up situations. Call for more details!